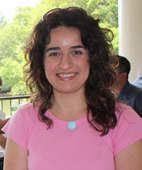 Mª Paz Orejas (Executive Director) - Editor
Bachelor's Degree in Journalism with honors from
Complutense University
of Madrid and Master's Degree in Audiovisual Company Management from
Carlos III University
of Madrid.
She began her professional career in broadcast journalism as a reporter, producer and editor at the cultural section of various media in Madrid. Then, she was appointed Editorial Manager of the multinational internet company,
Ciao.com
for two years. In this role, she served as a communications professional dedicated to ensure the effectiveness, timeliness and accuracy of all publications.
In 2004 she co-founded the production company
Paz Producciones
with her brother, David Orejas, where she currently serves as producer, scriptwriter and film editor. Since the company's foundation she has held the Executive Director position.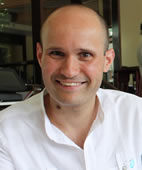 David Orejas (General Manager) - Director
Bachelor's Degree in Cinematography and Television Directing from TAI
School of Arts and Entertainment
of Madrid and Law Graduate from
Alcalá University
of Madrid.
He first came into contact with the professional film-making business working in the direction and production of fiction short films and documentaries for various production companies in Spain. During the shooting of the film 'Talk to her', directed by Pedro Almodóvar he met the Executive Producer of 'El Deseo', Esther García, who encouraged him to shoot his following short films.
He created his own production company
Paz Producciones
with his sister, Mª Paz Orejas, in 2004. As founding partner, he is the General Manager of the company and he is responsible for its different video productions. He has also directed for the company the feature films
"Artesanos del humor"
and
"El artista emigrado"
which have been broadcasted on TVE
1
and The History Channel.
1 TVE: the national public-service television broadcaster in Spain
Paz Producciones has the support of a versatile and talented team, which is made up of camera operators, photographers, designers, editors and media professionals who are responsible for different aspects of audiovisual production.

That's why our company works for you from start to finish. Paz Producciones is geared to fully service all phases of audiovisual production from the initial script through to the final broadcast quality master. All of this in an excellent high definition quality and with the careful attention that your production deserves.