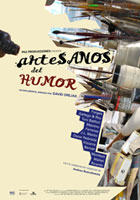 • Buy it
ARTESANOS DEL HUMOR

Director: David Orejas
Genre: Documentary
Year: 2006
Length: 64'
Network: TVE1 and The History Channel
A portrait of various generations of humorists who in their day gave everything up to devote their time to portraying the ironies of life and in this way became very special chroniclers of day-to-day life.
Each morning the cartoonists manage to clear the stuffy air that saturates our environment and tickle our consciences by suggesting that life shouldn't be taken quite so seriously.
This documentary focuses on the views, memories and desires of the great masters of cartoons who have become the spokespeople for people's opinions as they express, with lucidity and humour, what we all think but are not capable of putting into words.
1 TVE: the national public-service television broadcaster in Spain